The Podcast News 33: 4th of July Podcast Tips
'Merica
This week: An epic list of tips and tricks about growing a show. 5 things to know if you're interesting in getting started with sponsoring podcasts. An in-depth article about how to record phone calls. Tips about calls to action in podcasts. A free podcast management template for Notion.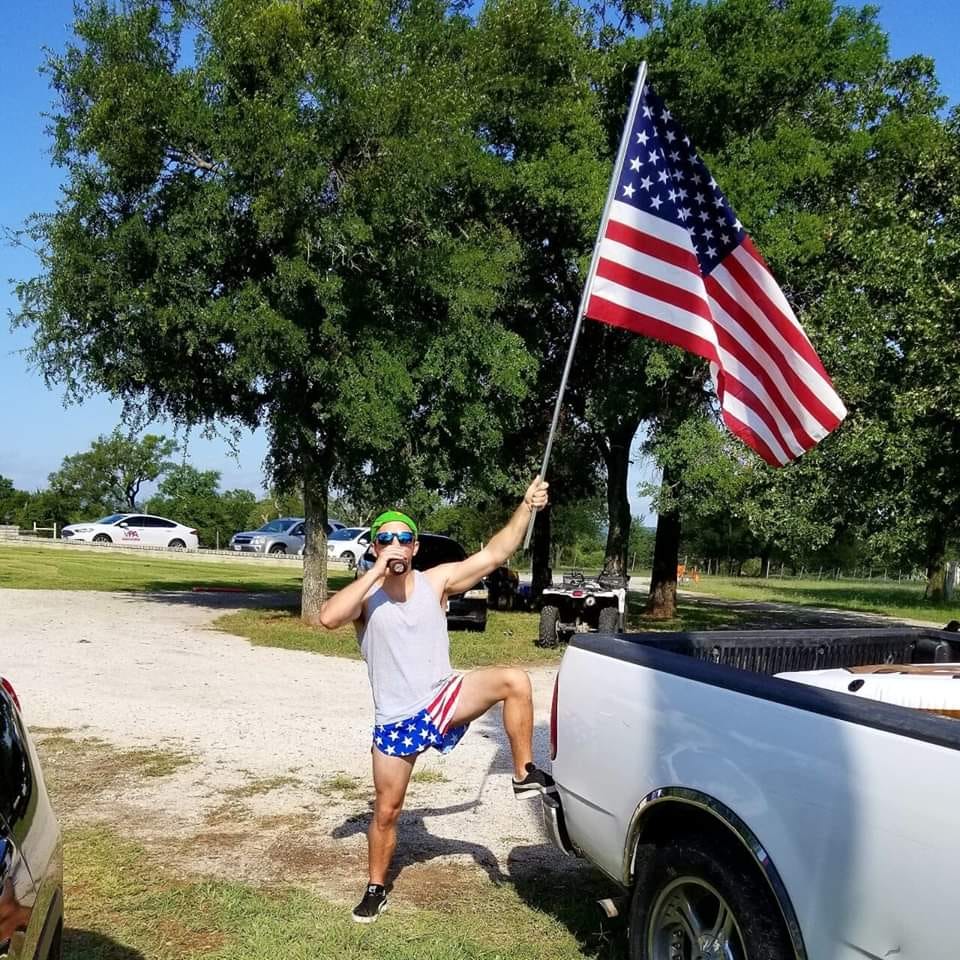 This week's featured image: My friend Taylor, July 2019. Instant classic.
Let's start with some helpful tips from the folks at Buzzsprout.
•••
From Buzzsprout's blog:
Launching a podcast is both terrifying and exhilarating! You aren't sure what to expect and probably feel insecure about your first few episodes. But after a few weeks, you start to become more confident that starting your podcast was a good idea after all.

Once you've got a few episodes under your belt, it's common to experience a sort of "sophomore slump." This slump happens when you continue to publish high-quality episodes, but your audience isn't growing at the same rate that it was when you first started.

And while there are many opinions about the best way to grow your podcast audience, you're interested in what's working right now for independent podcasters just like you.

"How are everyday podcasters building their audience and finding success?"

To answer this question, we spoke to over 200 Buzzsprout podcasters on the tactics they have used to achieve success. Here are 50 of their best marketing tactics on how to grow your podcast.
It's always nice to read what's working for other people, but at the end of the day, knowing this stuff won't make you successful or get you to where you want to be. You have to do the work, and it takes time and effort. Still, this is a fantastic list of best practices and tips and tricks for podcasters.
•••
From Adam King, head of group sales at Acast, some helpful tips for brands interested in getting started with advertising in podcasts:
It's well known that advertisers typically follow audiences, and that's certainly true of podcasting.

The industry has experienced incredible audience growth year-on-year – this has skyrocketed further due to the recent lockdowns and social isolation measures. Acast alone has hit a record 25 million Australian listens in one month, cementing its position as the biggest podcast player in Australia.

We're now seeing record demand for podcast advertising locally and are encouraged by how many brands are spending on podcasting for the first time. If the momentum continues, we expect the Australian podcast market will exceed PwC's forecast and grow far beyond $110 million by 2022.

As new podcast advertising players enter the market, we're getting more and more questions from brands.

Based on our discussions with local brands, here are the five things to consider when advertising via podcasts for the first time.
Great insights for brands interested in sponsoring shows, but also important reading for podcasters interested in getting sponsors. Three quick takeaways:
If you want sponsors, make sure your podcast is hosted on a platform that is IAB certified (here's a list).

You don't have to have a massive audience to get sponsors, but if you don't have a massive audience, you'll need a niche, loyal, and highly engaged audience.

As the host of a show, you probably have a better sense than the sponsor does about what will resonate with your audience and get results. Trust that, and don't be afraid to take the lead when it comes to creating messaging for the sponsor.
•••
The day before I saw the link to this article, my friend Joe actually asked me about the best way to record a phone conversation. So, good timing here, Jeff.
Jeff Towne on Transom.org with a detailed, in-depth look at how to record phone calls:
Here at Transom, we've been reluctant to focus too much on recording phone conversations because we generally prefer the results of an in-person interview. The warmer, more vivid sound of someone speaking into a good microphone paints a more complete picture than the tinny, crackly, distant sound of a phone call, and the harsh sonic character of a phone call can be tiresome to the ear. So our initial reaction to recording phone calls is: don't. If you can't conduct an in-person interview, hire someone to be with your interviewee, capturing the conversation on a good microphone and recorder.

Currently, the Coronavirus pandemic has made it necessary to communicate remotely, using the power of computers and the internet, and applications like Zoom, Microsoft Teams, Skype, and others. But we shouldn't overlook a simpler, more ubiquitous, more reliable option: the telephone. An old-fashioned audio-only phone call can often sound much better than the bubbly, metallic, choppy audio that often results from the limited bandwidth of an internet-based chat. No dropouts, no garbled sound allows for better conversational flow.

Recording old-style, landline phone calls has always been confusing and unreliable without expensive specialized equipment. Recording cell phone calls has been similarly challenging, but we've come across a few solutions for each. Some of our favorite techniques are surprisingly low-tech, simple, and inexpensive, though as is often the case, spending some money on devices that are designed for this purpose can provide an appealing ease-of-use.
Bookmark this, you know it's going to come in handy in the future.
•••
From Andrew Davies on Medium:
Calls-to-action are an under-rated part of podcasting but, done well, they play an important part in discoverability and audience engagement. One of the hardest things in any form of media is to attract and build an audience. Yet, having done all the work to create a great podcast, why wouldn't you ask your listeners to engage beyond simply listening to the audio. This could be by:

Helping others discover your show

Sending ideas for future stories

Listening to another show you produce

Reading an article on your website

Listening to the back-catalogue

Listening to the show via a smart speaker

There's no shortage of options when it comes to calls-to-action. There are, however, a few principles worth following when considering including one for your show. And the emphasis is on one.
The rule, in short: One call to action per episode. Make it easy, make sure to explain how it benefits the listener, make sure it's something your audience would actually do, chose your language carefully, and don't forget to put it in writing in your show notes as well.
•••
I saw Will Helliwell share this Notion template on his LinkedIn page this week, and thought you might find it useful. (Even if you don't use Notion, maybe it'll inspire you to create something similar in another app.)
From the post on Will's website:
At the time of writing, I'm 38 episodes into making ComposerCast. I've been using Notion to plan and document all the episodes and releases so far. (If you haven't used Notion before, it's an all-in-one flexible workspace for yourself and for teams)

Notion has a free plan so if you're a podcaster and are looking for a way to manage your episodes, click the link below to check out my free podcast management template. If you like what you see, just hit the duplicate button in the top right of your screen, create a Notion account and start planning your podcasts now.
I always made my best episodes when I was following a template. I found it easier to come up with episode ideas and flesh them out, and I never felt like I was losing anything in the process.
In fact, I bet if I started following a template again, I could produce more than a few episodes a year. Woof.
•••
Closing Thoughts:
If you watched or read something interesting or useful this week, hit reply and share it with me or leave it in the comments section. I'd love to hear about it.
I'll be back with another edition of The Podcast News next weekend, but for now I'm gonna go take the kayak out and get some rowing done and watch the sunset from Lake Granbury.
Thanks for reading.
Aaron Dowd
Granbury, Texas
July 5, 2020

If you'd like to support this newsletter and my work, please sign up for a membership or share this newsletter with a friend. Thanks to the current members for their support: Kato, Alexander, Norman, and Don.