The Podcast News 31: Money Money Money
Who's got the money?
This week in podcasting: How many podcast listeners are willing to pay for or donate to podcasts? A free podcast host wants a cut of the ad revenue. SiriusXM buys Simplecast. Nick Quah launches a podcast about podcasting.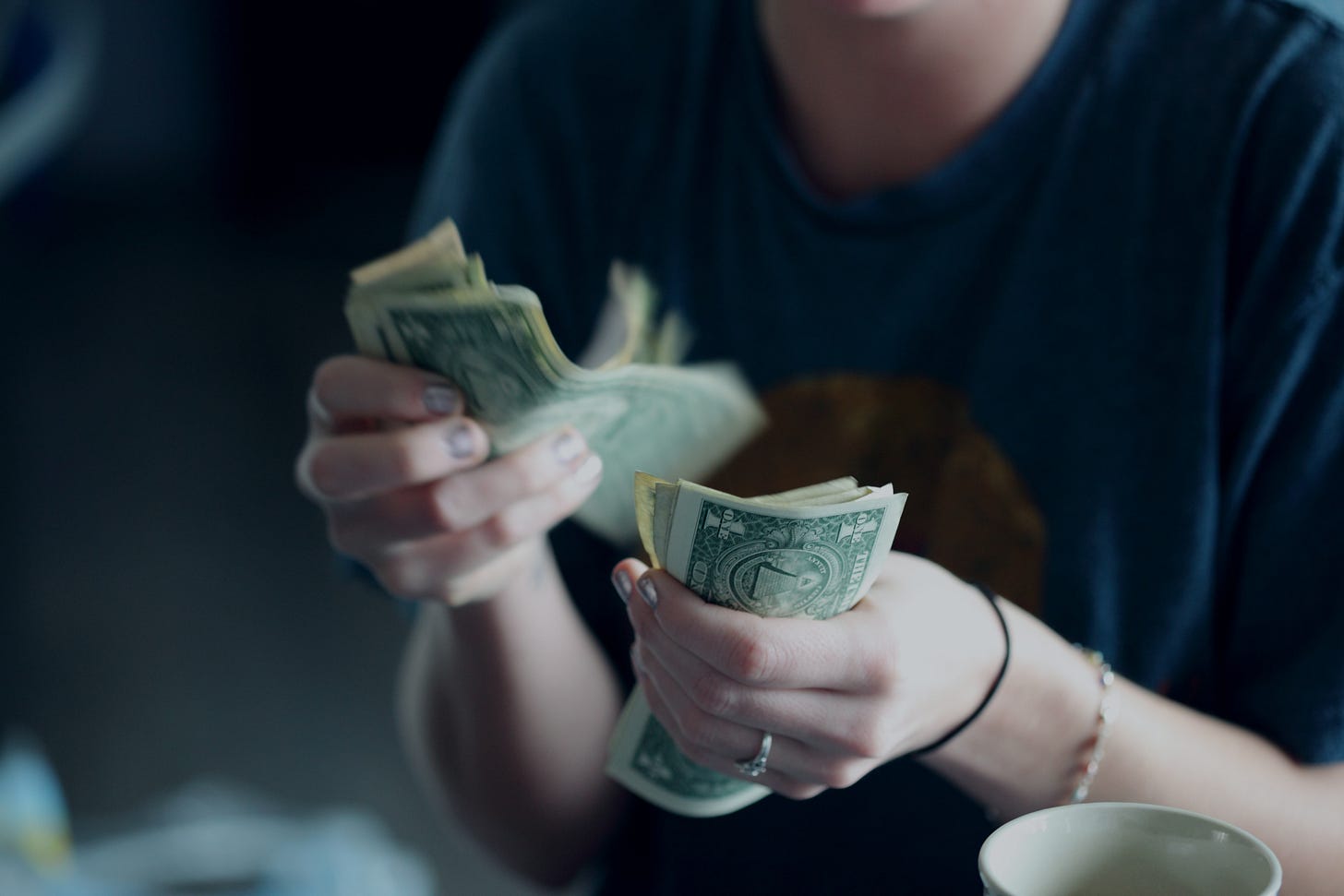 Photo by Sharon McCutcheon on Unsplash
From Kevin Tran on Variety.com:
Companies have long tried to gain a critical mass of paying monthly podcast listeners, with varying degrees of success

Among U.S. adult podcast listeners who've never paid for or donated to a podcast, 80% said it was "not very likely" or "not at all likely" that they would pay or donate to access or listen to a podcast in the next year. Just 20% said they were "very likely" or "somewhat likely" to do so.

Additionally, just 17% of U.S. adult podcast listeners said they had ever paid or donated to access or listen to a podcast, while 78% said they had not.

The vast amount of free high-quality podcasts available likely makes paying for podcasts a tough sell to the average listener. Companies in the paid podcast biz are likely better served targeting heavy-podcast listeners in the near-term.
My initial reaction to this article was, "Well yeah, why pay for something you can get for free in most cases?"
But what if you looked at it with an optimistic perspective?
Almost 20% of podcast listeners have already payed for or donated to a podcast.
That's what Tom Webster pointed out in his newsletter this week:
Earlier this week, a survey on people's willingness to pay for podcasts was published, and some of the headlines reporting the results could fairly be represented as "pessimistic." After reading this one, which declared "Pay for Podcasts? No Thanks, Say Most Listeners," I tried to fix the headline on Twitter:

Allow me to rewrite this headline for the less numerate: "20% of people who listen to predominantly free medium would still pay for that medium."

We often get fooled by small numbers. I can't tell you how many times people have reached out to me about data that shows "only" 5% of Americans do this, or "just" 7% of women agree with that. I never, ever, ever use the words "only" or "just" when I characterize data, because a) its a value judgment, b) "only"…compared to what? and c) any single-digit percentage of the US population is millions or even tens of millions of humans, and if they all sent you a dollar you'd be pleased as punch.

So I don't need to speculate about whether one in five podcast listeners might pay for a podcast; nearly one in five already have.
•••
This bit of news from the Podnews email newsletter caught my eye this week:
Ximalaya FM ("shee ma lai ya"), the most popular Chinese free podcast hosting company, have unveiled significant restrictions to podcasts taking advertising. Ximalaya FM now requires podcasters to inform them of details of every advertising deal, and the company will now take an unspecified commission on all deals worth more than US$4,250.

Ximalaya FM, doesn't use RSS and operates closer to a YouTube model. It also operates a separate product for overseas markets, called Himalaya, which is unaffected.
I wonder if there any other free podcast hosting platforms out there that might eventually try to pull a similar move. Hmmmm.
Also: It costs money to deliver audio files to people all over the world. There's no such thing as free hosting. Someone is paying for it.
More from the article linked above:
Ximalaya FM said that the policy aims to help content creators better monetize, but many top podcasters said otherwise.

A few of them told PingWest that podcasters on the platform and in the industry in general are like a pyramid, on which maybe the 20% on the pointy top has valuable advertiser resources, earning them a comfortable income to cover the cost.

Top players' annual playbacks on Ximalaya FM reach the ballpark of millions, or even tens of millions each. However their revenue from the platform has been described to PingWest as "trivial" at best.

One top host, who does not want his nor his brand's name public, told PingWest that he made a little more than 300 RMB, or 42 US dollars last year from Ximalaya FM. Another podcaster, who runs a slew of business-centric podcast brands featuring high-quality content garnering decent playback counts, said that she didn't even bother to check for how much she could withdraw from the platform.

These podcasters said that their advertiser relations are the result of their own business negotiations and hard work creating content. In contrast, Ximalaya FM did little in empowering content creators by developing advertiser resources and increasing revenue streams for them. "And now it's at the gate, wanting to take over our hard-earned advertiser resources," said one podcaster.
•••
From Tech Crunch:
SiriusXM, owner of Pandora and backer of SoundCloud, said that it is acquiring Simplecast, a podcast management platform used by creators to publish and distribute podcasts, and subsequently analyse how they are consumed. SiriusXM plans to integrate Simplecast with AdsWizz, a digital audio advertising company that it acquired in 2018 for $66.3 million in cash plus shares to power ads on Pandora.
Good move for both companies, IMO. Simplecast needed an ad monetization option and a listening app/platform, and Pandora/Sirius needed a hosting platform with tons of data and great podcasts and a team of people with a deep knowledge of podcasting and podcast tech.
Big congratulations to my friends over at Simplecast. I'm looking forward to seeing where things go from here, and I'm optimistic for the shows hosted there.
•••
The announcement from hotpodnews.com:
Today, we're launching Servant of Pod, my new weekly podcast about podcasts that I'm making in partnership with LAist Studios. It will be, for the most part, an interview/conversational show, though we'll see what else we can do with the format as we get our feet under us and start building out some muscle.

My intent with the podcast is fairly straightforward: to string together a mix of interviews and conversations that help listeners (casual and not so casual) get a better sense of the growing podcast business — and, more importantly, to get a better sense of the people shaping that business and its formative culture. That can mean a lot of things, and that can mean a lot of people, which is sort of the point.

Obviously, you can subscribe to the show on Apple Podcasts, Spotify, Stitcher, and the wide universe of third-party podcast apps that pull from Apple's directory, whether it's Pocket Casts, Overcast, Castro, Breaker, Radio Public, whatever. (It doesn't appear to be on Google Podcasts yet, ¯_(ツ)_/¯ I guess.)
I've subscribed to the show but still need to listen to the episodes. Making a podcast about podcasting is tricky business, but I'm rooting for him.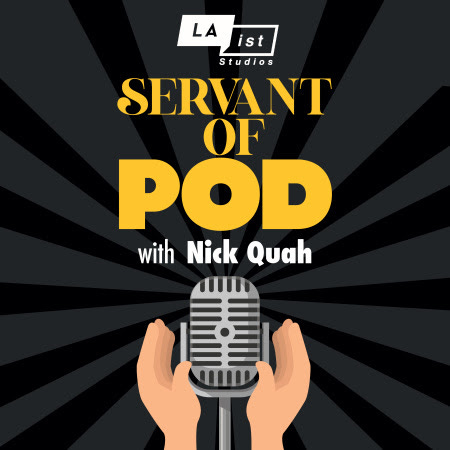 •••
From Filipe Espósito on 9to5mac.com:
9to5Mac has already covered some of Apple's plans for iOS 14, which will be officially introduced on Monday. Now we've heard from sources that Apple is also working on some major changes to the Podcasts app, which is now expected to offer personally curated content just like Apple Music.

If you're already an Apple Music subscriber, you're probably familiar with the "For You" tab, which suggests new songs, artists, and playlists based on what you've been listening to. With iOS 14, a similar feature will be available within Apple's Podcasts app, according to people familiar with the matter.

That means the Podcasts app will learn about your personal preferences to suggest new podcasts available on the platform, making it more customized for each user. A new user profile should let you follow your friends on Apple Podcasts to see what they're listening to.

Another new feature expected to be included in the Podcasts app with iOS 14 is the option for podcast creators to offer bonus content to the audience, similar to what you get when you buy a movie in the Apple TV app. These bonus contents will be presented in the same feed as the podcast, but separate from regular episodes.
I'm curious to see how Apple is going to handle bonus content, and if they're ever planning to introduce a paid content option to Apple Podcasts.
//sidenote
I don't know about you, but I always get excited for Apple's WWDC conference. For someone who loves computers and technology and Apple, it feels a lot like Christmas.
•••
From Jonas Woost on the Pacific Content blog, a look inside Pacific Content's planning and production process for Citrix's Remote Works podcast:
We get asked a lot what the secret sauce is for podcast success. Companies see the impact we are creating for our clients and are wondering if, by working with us, they get access to the secret formula that makes a podcast stand out from the more than 1 million podcasts available.

The truth is, there is a sauce but it's not that secret. Podcast success comes down to telling compelling stories and promoting them well. Our recipe for success is the best illustration of that concept and it is simple, intuitive but very hard to execute.
One of the interesting takeaways for me was this section about release schedules:
Our default recommendation is to release podcast episodes every two weeks. We've learned that a weekly release cadence can be very taxing on the marketing teams as past and upcoming episodes need to be promoted simultaneously. Additionally, the marketing strategy for each episode can be very unique based on the guest or theme.

Another reason for a fortnightly release cadence is to be 'in market' for twice the time. This might seem counter-intuitive since of course all podcasts episodes will be available to the public in perpetuity. However, it's a lot easier for our clients to execute a marketing campaign about a project that is being released now as opposed to in the past.

With Citrix's Remote Works project, the brief was very different. This was not about being 'in market' longer but instead about shaping the future of work locations right now. So we all agreed that this needed to be released on a weekly basis. These stories had to be heard now.

Again, resourcing is a key factor to make this work. We essentially have two teams working in parallel to produce stories to keep up with the release schedule. Many of our Producers have experience working on daily radio programs so this is not unfamiliar territory for us.
Closing Thoughts
Need help with your podcast, or know someone who does? I'd love to get back into working directly with podcasters again soon, so if you need an editor or someone to handle production or post-production for your show (or if you know someone who does), send me an email with some info. Or if you want to hire me for something else, I'm all ears.
Thanks for reading. Stay safe, and have a great week.
Aaron Dowd
Los Angeles, California
June 21, 2020
If you'd like to support this newsletter and my work, please sign up for a membership or share this newsletter with a friend. Thanks to the current members for their support: Kato, Alexander, Norman, and Don.
If you like this newsletter, you might also enjoy my podcast about podcasting.