The Podcast News 30: Podcasting Without Social Media?
June 14, 2020
It's Sunday, June 14, 2020. This week: Cal Newport launches a podcast. Spotify still hasn't fixed their show notes formatting issue. Zencastr is testing a video podcasting tool. I talk to an old friend about podcasting.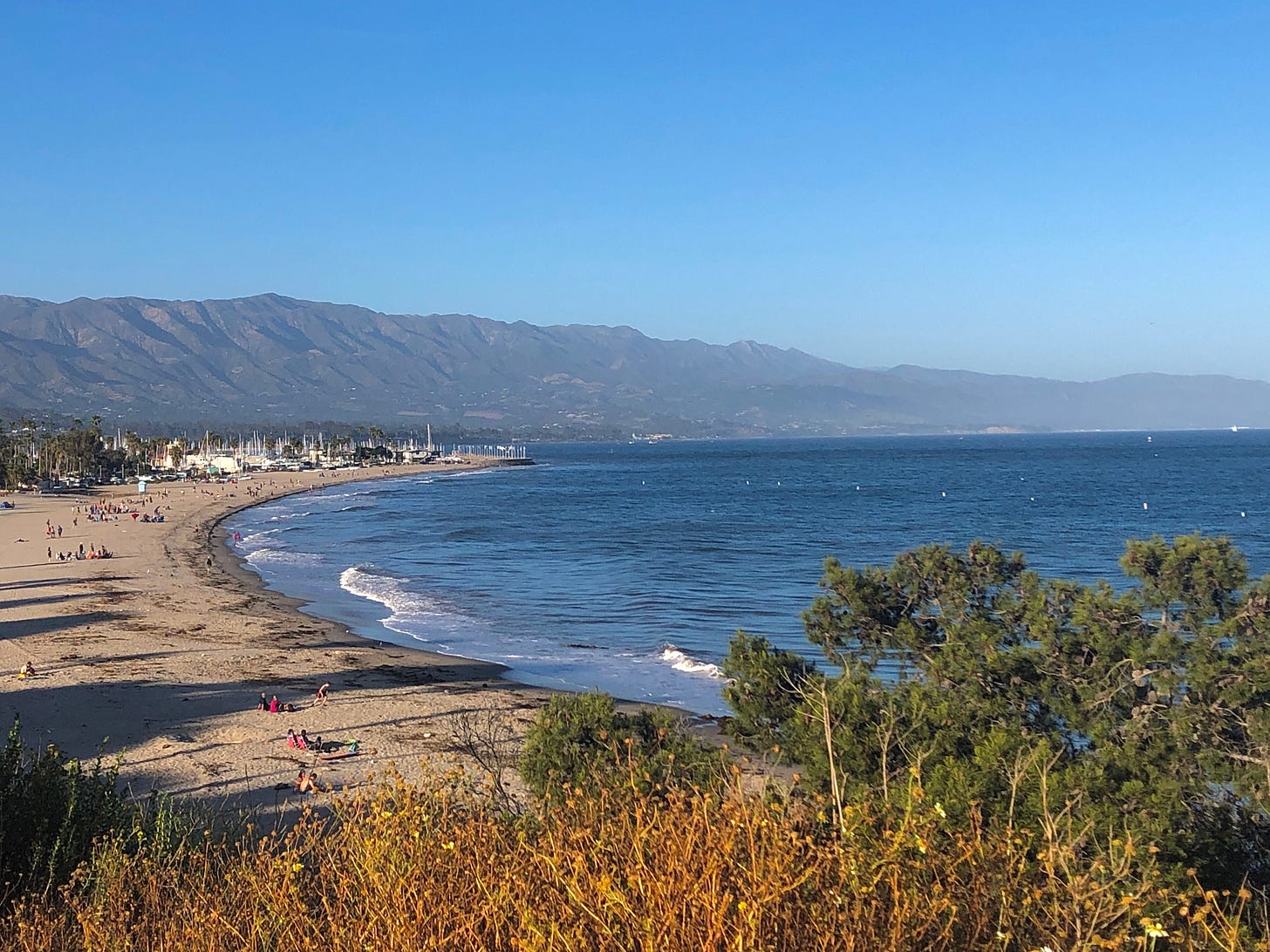 This week's featured image was taken at the end of my 25 mile bike ride through Santa Barbara, CA.
I have two videos I'd like to recommend this week, in light of recent events:
Now for the podcast news.
Cal Newport launched his first podcast a few weeks ago, now has a top show in the Technology category in Apple Podcasts, still doesn't use social media
My favorite author Cal Newport (Deep Work, So Good They Can't Ignore You, and more) launched his first podcast a few weeks ago.
It's already a top podcast in the Technology category in Apple Podcasts, despite not having social media accounts.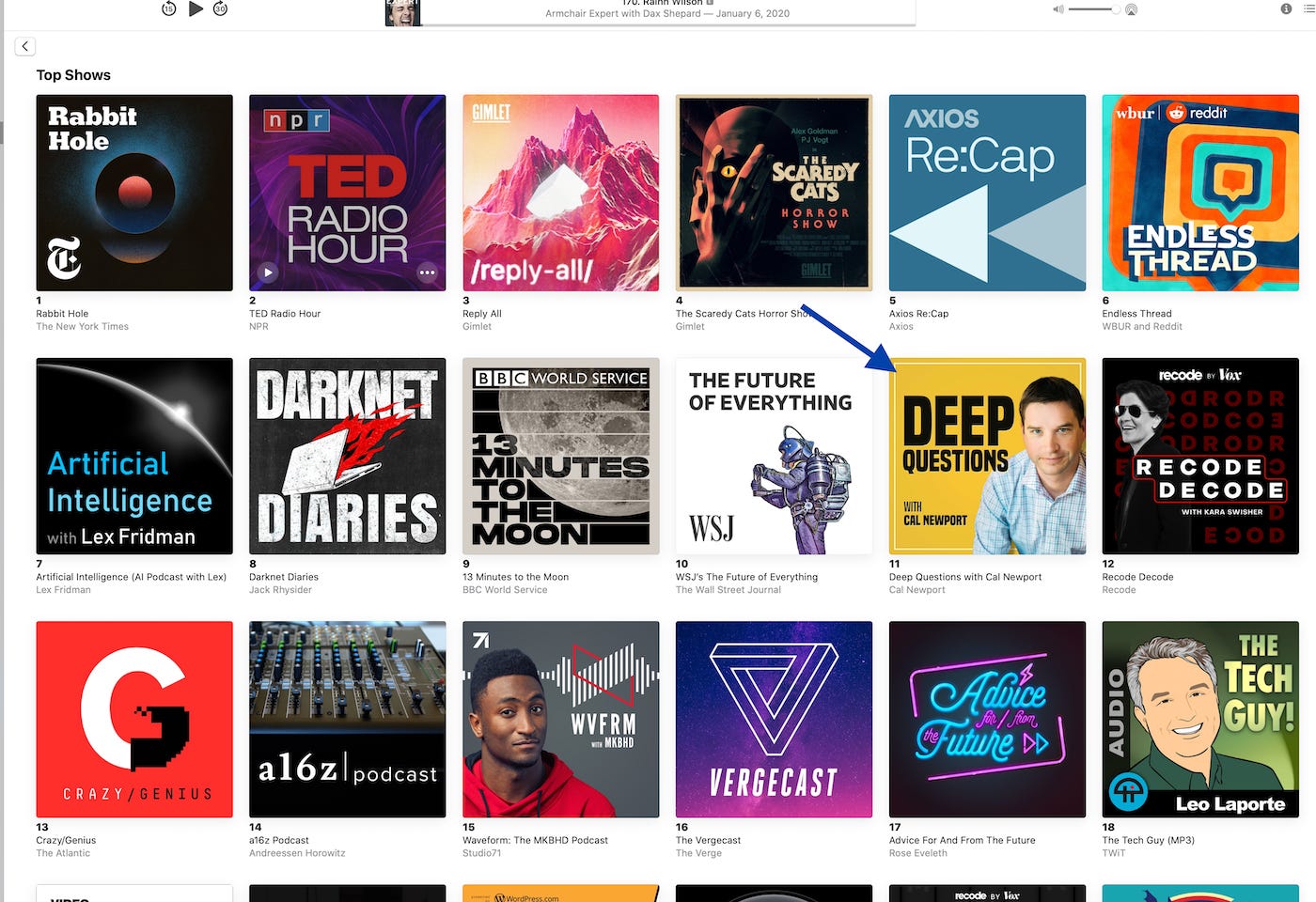 From Cal's blog post where he announced the show:
In the early years of this blog, one of my favorite activities was answering reader questions.

I used to put aside an hour almost every day for keeping up with these emails. Over time, however, the number of queries became too large to manage. It occurred to me recently that the podcast format might provide a way for me to return to these roots while reaching many more people with my answers than what's possible with one-on-one messages.

So this is what I did…

My new podcast, Deep Questions with Cal Newport, is currently available on Apple and Spotify (and soon to be available on other platforms as well).

The format is simple, I answer reader questions about the main topics we discuss here: work, technology, and the deep life. I do my best to avoid rants (spoiler alert: I usually fail).
It's not that Cal doesn't do any marketing at all. He's actually a very effective marketer, but he seems to focus on blog posts, his email list, and guest appearances on podcasts and other shows and media.
His intense focus on producing quality work means that most of the time other people do the promotion for him.
You've probably heard what they say about word-of-mouth marketing: It's the most effective marketing there is.
Nielsen report that 92% of consumers believe suggestions from friends and family more than advertising.

Beyond friends and family, 88% of people trust online reviews written by other consumers as much as they trust recommendations from personal contacts.

And 74% of consumers identify word of mouth as a key influencer in their purchasing decisions.

But only 33% of businesses are actively seeking out and collecting reviews.

Despite that fact that a little, can do a lot. When specific case studies were analyzed, researchers found a 10% increase in word-of-mouth (off and online) translated into a sales lifts between 0.2 – 1.5%.

- Word of Mouth Marketing in 2020: How to Create a Strategy for Social Media Buzz & Skyrocket Referral Sales
Personally, I'm back in the "no social media" camp. (Or at least, no more scrolling the feeds.)
At some point I'll come up with a strategy for marketing my work there, but for now I'm going to focus on increasing the quality and quantity of my work output.
From David Ruddock on AndroidPolice.com:
I support creators hustling corporations for cash, but Spotify is ruining the podcast experience
Spotify still hasn't fixed their show notes formatting.
From Brian Heater:
Early this week, Zencastr sent out an email to a select number of users, outlining plans to test a new video podcasting tool. The service has grown significantly in popularity over the last year or so, as more burgeoning podcasters have sought out a service that can streamline the remote recording process.

The new feature is available as a limited, free beta, as the startup seeks to do more widespread testing. Among the key features here is the ability to record a two-way conversation in 720P, which is mixed and rendered through an automatic post production at up to 1080P. That video can then be published directly to YouTube, Vimeo and other platforms.
I recorded a conversation with my friend Sean McCabe this week and one of the topics we discussed was the effectiveness of video for growing an audience.
I don't think I'd start an audio-only podcast these days, if growing an audience is one of your top goals for the show.
Moving forward, I'll be recommending people start with video and then use the audio from that video for the podcast.
Here's a link to that conversation:
Take a listen, it's worth your time.
Closing Thoughts
Looks like I'm going to have some availability in my schedule starting next month. If you'd like to hire me to work on something podcast-related with you or your team, my email is Aaron at thepodcastdude.com.
Send me a short message with what you have in mind. I'll have 10-15 hours a week available, and I can work with most budgets if it's a good fit and a project I'd like to work on.
Thanks for reading, and I'll talk to you again next week.
Aaron Dowd
Los Angeles, CA
June 14, 2020
Thanks to the Podcast News members for their support: Kato, Alexander, Norman, and Don.
If you'd like to support this newsletter and my work, you can sign up for a membership or share this newsletter with someone who might enjoy it.