The Podcast News 27: It's a Beautiful Day in the Neighborhood
Sunday, May 17, 2020
It's Sunday, May 17, 2020. This week: Dan Misener draws a map of the different "neighborhoods" in the podcast ecosystem. Ben and James from the Exponent podcast discuss podcast monetization and Spotify. Christine Blackburn shares excellent advice on how to prepare for podcast interviews.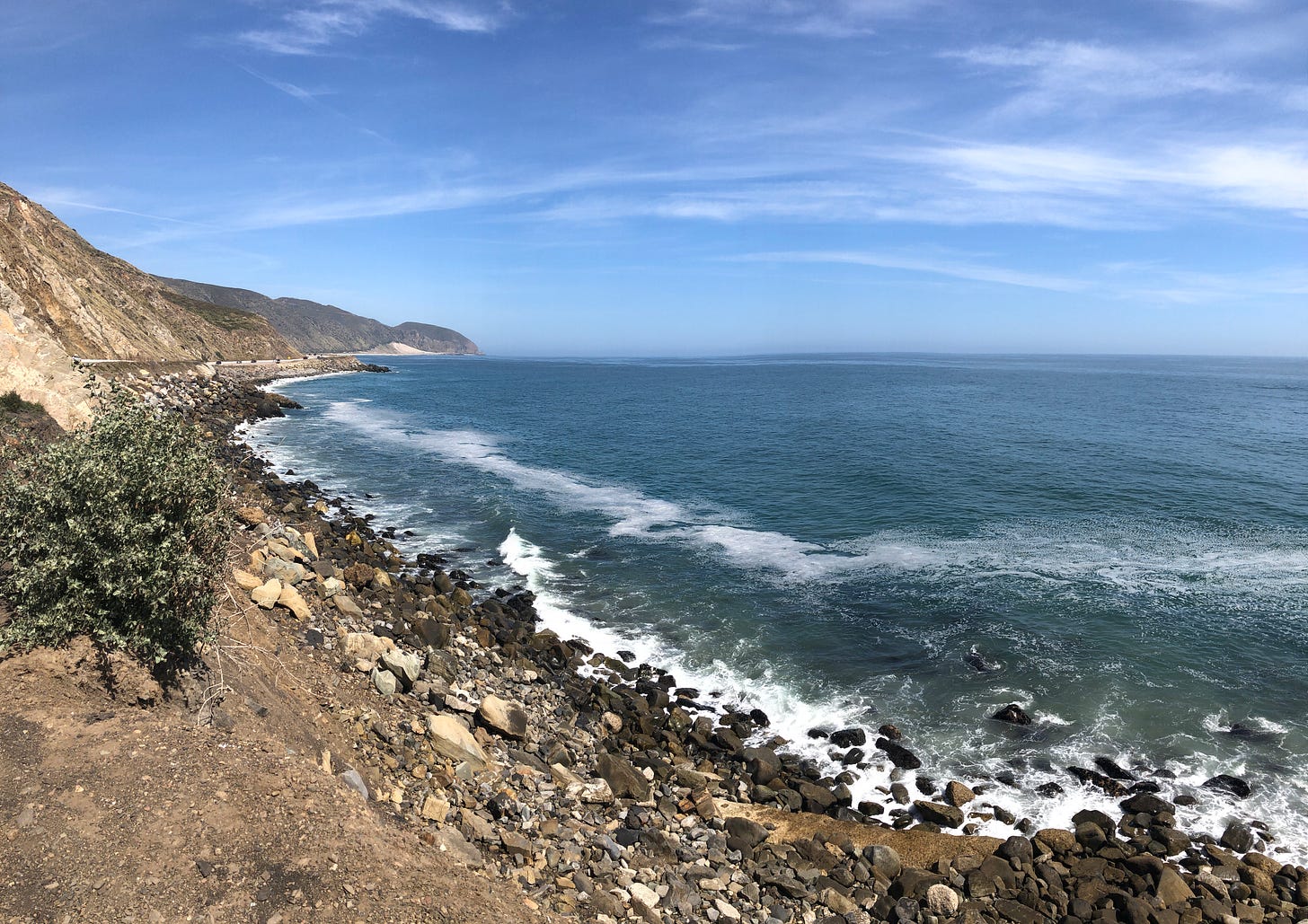 This week's featured image: Bike ride on Pacific Hwy 1 just south of Oxnard, California.
•••
From Dan Misener on Pacific Content's blog:
A few months ago, I decided to draw a map of podcast neighbourhoods.

To begin, I looked at the top 400 shows in Apple Podcasts (US). For each show, I drew a point on my map. Then, for each show, I looked at the "Listeners Also Subscribed To" section in Apple Podcasts. For example, listeners of Armchair Expert with Dax Shepard also subscribe to Getting Curious with Jonathan Van Ness, Ellen on the Go, and Conan O'Brien Needs A Friend. This helped me understand which shows have audiences in common. Then I drew lines, connecting shows with related audiences.
I remember seeing a quote awhile back that was something like "the most successful podcasts build ecosystems around themselves".
•••
Ben and James discuss Dithering, how Spotify is like Facebook, and a bit about working from home.
I love this show, but they could have done a better job with the episode description. In this episode, they dive into podcast monetization options, why open doesn't mean free, why Spotify's moves to gain more control over the podcast ecosystem is a problem, and more.
If you're a podcast producer, this is required listening.
•••
From Christine Blackburn on the Podcast Movement website:
When a podcaster takes steps to be meaningfully prepared, a great interview can become so much more. I've recorded over 600 episodes of my podcast Story Worthy, and I've made many mistakes over the years. Here, I'll share with you the lessons I've learned and the most effective ways to prepare for your guest. Thorough preparation involves time, but every minute of effort will pay off. You want to gather all the information possible about this person. This may seem obvious, but many hosts overlook this basic step. Instead, they end up asking their guest the same questions they've answered a thousand times before. If you don't do proper research, you may leave your guest thinking they've wasted their time, and the listeners may question your show.
Excellent advice about the craft of interviewing here.
•••
From Dave Jackson on the Podcast Business Journal's website:
I got an email from someone who had been podcasting for two years. In the email (and I'm paraphrasing) it basically had these points…

You need a pre-existing brand, preferably from another medium (particularly TV) to be successful. There were some who were able to breakthrough in the early days of syndicated podcasting just by doing episodes. Now its virtually impossible to "breakthrough" if you're starting now.

If you look at this point, the person is pointing out why they were only getting 30-50 downloads per episode after two year.

They also pointed out that: My shows are technically well done and that I am a capable presenter. I can do this on YouTube for free. I don't need to pay to create episodes that strangers can ignore.

When I saw, "My shows are technically well done and that I am a capable presenter," I just shook my head.

"All I need is a good microphone and the ability to talk and I should be famous by now."
"How will you know if your podcast is a success or not?" is one of the first questions you should ask anyone who wants to start a podcast.
Dig deep. Get specific about the motivations and expectations.
•••
From Seth Resler:
As a professional broadcaster, I can't resist the temptation to increase the production values of my livestream videos on social media. I realize that this is a medium where the audience doesn't have the expectations of a local newscast, let alone Game of Thrones, but I can't help it. If I can make the videos look slicker, I will.

Of course, doing that when you're stuck at home without a professional crew or an operations budget isn't easy. But there a few things you can do, including adding short video "bumpers" — intros, outros, and transitions — to your broadcast.
•••
From Jennay Horn on We Edit Podcast's blog:
The relationship created between podcast host and listener is just one of the many aspects that make the podcasting medium so special. Besides your desire to share your message, your listeners are most likely your next biggest motivator for hitting "record" on a new episode. Your listeners are, therefore, vital to the overall success of your podcast, but in order to achieve that success, you need to create more than a loyal listener base, you need to develop a community around your show.

Establishing a community creates an environment where your audience can move from just being listeners to feeling like they are truly a part of something.

As humans, we have an intrinsic need to belong, and a podcast community can help meet those needs in an incredibly rewarding way – both for the host as well as for the listeners. A strong podcast community also helps to keep your listeners engaged and helps you cement your authority within your niche – a true win-win for all! But just as Rome wasn't built in a day, podcast communities don't just happen. They take time and require a game plan. And that's where this post comes in!
•••
Reddit thread that caught my eye this week:
A potential sponsor contacted me with a deal where I plug their website and get a % for every sale with my code. What makes me wary is that in order to create a "partner" account, I need to first make a purchase. This makes me feel like it's just a ploy to get podcasters to buy their products. Has anyone here encountered anything like this?
•••
From Buzzsprout's blog:
Magic Mastering uses advanced technology to sweeten audio files automatically and then optimize them to match the industry best practices for spoken word or music heavy productions. If you just started podcasting, this saves you from learning the ins and outs of mastering audio files. For those with experience mastering audio, it's a huge time saver.
I love this idea, but I'd also love to hear some audio samples. I could share more than a few messed up audio files with them if they need them.
Off Topic:
So much great advice here. If I can add some of my own:
A good life starts with good sleep. Optimize your sleep first, it makes everything else easier.

Buy and cook food that is good for you. You need more fruits and vegetables and fewer fried and processed/pre-packaged foods. Get into meal prepping too.

Learning how to make healthy food that tastes good will take time, just like any other skill. It's a fantastic investment.
•••
Closing Thoughts:
I took my bike and some snacks and drove out towards Oxnard yesterday. There were plenty of people out and about, but it seemed like everyone was keeping their distance from others and/or wearing masks.
I love the Pacific coast. A couple hours of biking up and down highway 1 is enough to reverse the damage from weeks of stress/worry and working from home. I need to make it a monthly habit.
Hope you have a good week, and happy podcasting.
Aaron Dowd
Los Angeles, California
May 17, 2020
Thanks to the Podcast News members for their support: Kato, Alexander, and Norman, and Don.